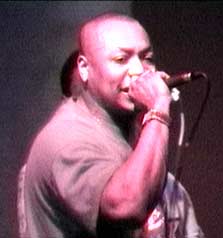 G-DA-Man

Edward Gene Hicks grew up in Champaign, Illinois where he made a name for himself as the hip-hop guru of the Mid-West. His career began as a young breakdancer with the creation of the Twin-City Breakers, a team that quickly rose to the top of the hip-hop scene. After the era of breakdancing, Gene switched gears and created "The Bass Bros." D.J. crew which took him straight to the air waves in Champaign. He ran a hip-hop radio show every Friday and Saturday night that had every hip-hop listener tuned in. A natural talent for the mic coupled with the power of the radio brought his music to the forefront of the music scene. Unmatched vocal skills, along with with a talent of producing and recording artists in the Mid-West area, helped build his own independent studio and record label. By producing his own tracks, and with the support of a large crew, the legend of G-Da-Man was born. He and his crew tore up local bars and venues everywhere they went. He produced, engineered, and recorded three albums featuring himself; as well as fifteen other albums featuring artists from around the country.
Today you can find G-Da-Man performing all around the US. His latest creation, Paign Family Records, is yankin' heads with its original Mid-West never heard before flava.


ReCoolie

Caricho Spinks first raised rhyme ruckus in the year 1985. Upon first introduction to the life of hip-hop, he was a natural to the art of flow, and was easily considered one of the area's best MC's. ReCoolie ripped up shows throughout the Mid-West representin' with crews such as "No Good Niggaz" (NGN), "Aggressive Manner," and "Trapped In Pain." While living in Champaign, it did not take long for ReCoolie and G-Da-Man to join forces. ReCoolie added to the Paign Family an "in your face," hard-core, unpredictable rap style. Having experience performing in countless shows, ReCoolie is a polished addition of The Paign Family.


ILL-STYLE

Jaques Smith, a native of Chicago, started his rap career with the crew Cool But Scandalous (C.B.S.) while still in high school. After CBS, Illstyle joined other crews such as God Father Productions, The Gate Keepaz, and The Yam Maniacs. Performing with these groups allowed him to master his lazy tongue lyrical skills. After moving from Chicago to Champaign, Ill hooked up with G-Da-Man and ReCoolie to complete the Paign Family.